Ways To Improve My Concrete Front Steps Chula Vista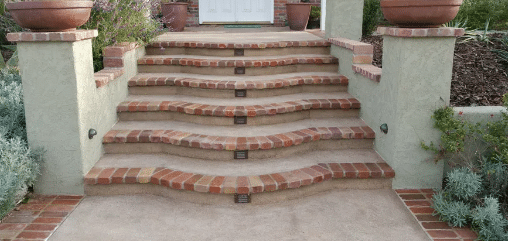 Concrete steps are one of the first things people see when they visit your home. If they're cracked, chipped, or just look old, they can give your home an unkempt appearance. But concrete steps are easy to fix with a little time and effort. Here are seven ways to improve the look of your concrete steps:
Add a fresh coat of paint. A new coat of paint can work wonders on concrete steps. It will cover up any imperfections and make them look like new again.
Apply a sealant. Sealing your concrete steps will protect them from weather damage and stains. It's also an easy way to make them look shiny and new.
Add a decorative border. Adding a border around your concrete steps can give them a polished look. You can use pavers, bricks, or stones to create the border.
Plant flowers. Adding some flowers to your concrete steps can brighten up the space and add a touch of color. Choose plants that are low-maintenance and can tolerate being in partial shade.
Add lighting. Installing lights on your concrete steps will make them safer to use at night. It will also add a bit of drama and make your home more welcoming after dark.
Pressure wash them. If your concrete steps are looking dirty, pressure washing them is a quick and easy way to clean them up. Just be sure to use a gentle setting so you don't damage the concrete.
Cover them with an awning. If your concrete steps are in a sunny spot, covering them with an awning can protect them from the sun's damaging rays. It will also keep them cooler, so they're more comfortable to walk on in hot weather.
FAQ's
What To Put On Outside Concrete Steps To Prevent Slipping?
There are a few things you can do to prevent slipping on your concrete steps. First, make sure they're clean and free of any debris. Second, you can add a nonslip coating or tape to the steps. And finally, adding a rug or mat at the top and bottom of the steps will help create a more secure footing.
How Can I Make My Outdoor Step Down More Visible?
If you're looking to make your step down more visible, try painting it a contrasting color or adding a strip of reflective tape. You could also install lights along the edge of the step to make it more visible at night.
What Is The Best Material For Front Steps?
There are a few different materials you could use for your front steps. Concrete is a popular choice because it's durable and affordable. Stone or brick steps can also be a good option, although they can be more expensive. And if you're looking for something different, you could try using wood or composite decking material.
Conclusion
It is important to take care of your concrete steps because they are one of the first things people see when they visit your home. By following these seven tips, you can easily improve the look of your concrete steps and make them last longer. For more information, contact Concrete Contractor Chula Vista at (619) 304-9911.